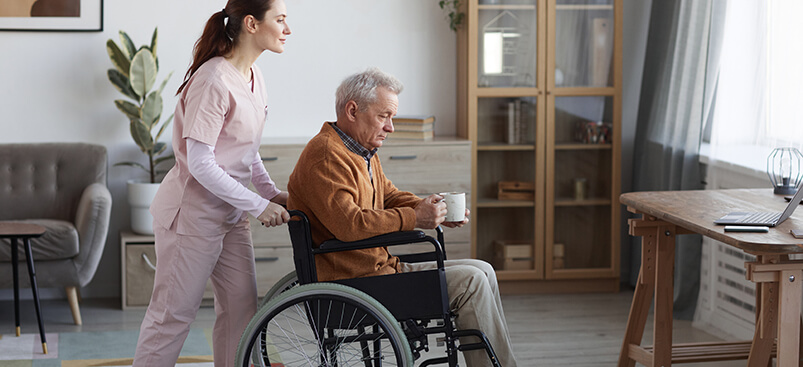 Skip The Waiting Room!
Call Us To Bring Medical Care at Home.
Save Time and Energy by Easily Book Our Agent Visit at Your Doorstep Within Minutes.
Home Attendant for Elderly or Patient
Need an attendant for the care of an old person or patient in their own homes? Carevive is the right place for you to begin and conclude your search for attendants that best fits your need for healthcare of your loved ones. An attendant is a trained and semi-qualified person who can help your loved one in their day to day living activities. They can be best said as companions who can take care of the basic activities and assist the elders or patients in bathing, grooming, oral medication etc as per your guidance. Some of them are trained to provide semi-medical care like BP monitoring, diabetes checkup, enema etc.
What are the duties and responsibilities of an attendant ?
Attendant's job is ensure best care of your elderly or patient in home.
Attendant ensures that your elderly or patient gets a helping hand in almost all daily living activities and physical movements.
An attendant stays along with the elderly or the patient as long as you want during the day or night or on permanent basis 24×7 basis. Depending on your need and health situation of your patient, an attendant role may vary.
He may act as an elderly caretaker, or a patient caretaker or as a nursing assistant to a nurse or an independent medical attendant.
Assist in Personal Hygiene
Prepare Meals & Feed
Oral Medicine as per guidance
Massage & Exercise
Assistance with Wheelchair and Walkers
Monitoring BP, Temperature, Sugar (Electronic)
Doctor's Appointments
Need some advice from our experts?
Request a Call Back Today Now!
At Carevive, we are consistently providing flexible and affordable quality medical care at home. We are just a call away from you to take care of your loved one or you.